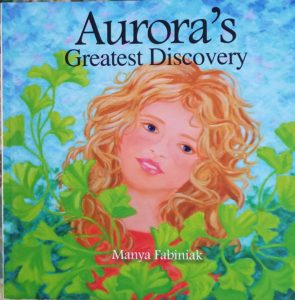 Aurora's Greatest Discovery by Manya Fabiniak is a transformational tale written for children of all ages. Aurora, and her much older brother Fran, share a deep love for the beauty of art and nature, and the inspiration this great love provides. As Aurora grows, Fran affirms her talents and teaches her the necessary tools to confront the doubts, frustrations, and fears that would prevent her from creating the rich, ever-expanding joy-filled life of her dreams. Most importantly, Fran teaches Aurora to connect with her heart and the Sacred Love that is the source of all her inspiration, courage, and trust.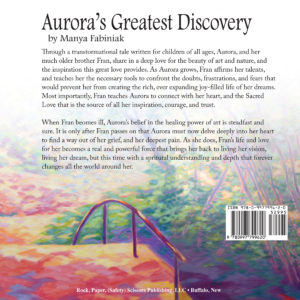 When Fran becomes ill, Aurora's belief in the healing power of art is steadfast and sure. It is only after Fran passes on that Aurora must now delve deeply into her heart to find a way out of her grief, and her deepest pain. As she does, Fran's life and love for her becomes a real and powerful force that brings her back to living her vision, living her dream, but this time with a spiritual understanding and depth that forever changes all the world around her.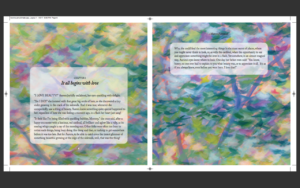 The novel is lavishly illustrated with close up images of the author's large-scale works that were painted in the past, as well as paintings that were specifically created to support the text.  Each page has the text floating above an image, giving the reader a glimmer of what lay underneath.  The atmosphere is both tender yet vibrant, with strokes of paint revealing the author's color technique and prismatic style.
Aurora's Greatest Discovery is available through Amazon.com and RPSSPublishing.com.